Anubhav Agrawal Interview/life story | I write what you feel Success Story
Meet 'I Write What You Feel' Founder Anubhav Agarwal
My name is Anubhav Agrawal, founder of I write what you feel, a channel, a page, a website, which is full of life, love, friendships and relationships.
When and How did you think about iwritewhatyoufeel.com?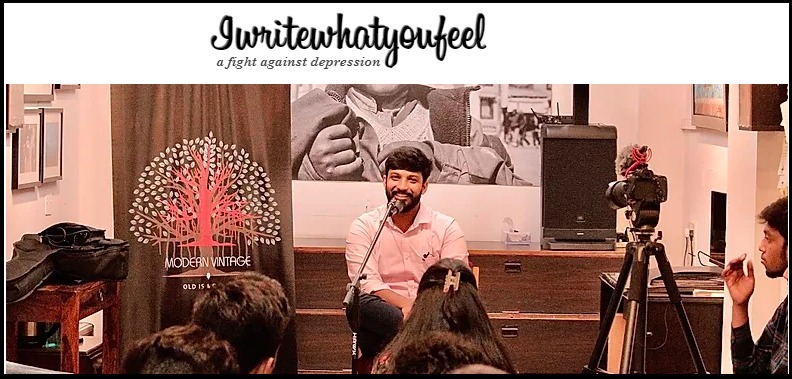 I started this page on Instagram in 2016 with a motive to heal people who are going through breakup and are depressed in life due to several reasons. I used to write quotes and fictional stories on several social topics like rape, dowry and spread positive and motivating vibes among youngsters.
I garnered almost 60K followers with my words in just 2 years, which was again a huge achievement for me. A small town guy, who never thought of leading and motivating thousands of people. But, the journey got stuck there as my account was restricted to reach more audience. I tried for almost a year but nothing happened and then, I sold my page and started from scratch once again.
The journey continued, I still used to write quotes and take consultation sessions in which I interact with the people and help them in resolving their issues.
I started creating poetries in which I used to speak the content in Hindi, with a background music, people started loving it so much that my account grew 0-700,000 in just 12 months.
From whom you got inspiration to start 'i write what you feel'? and Who is your mentor?
Anubhav Agrawal: My Inspiration and mentors was never been in a form of Human. It has always been in the form of that one divine light, Guru Ji. With his blessings and mentoring, I could achieve so much in such a less span of time.
It wouldn't have been possible without him. I always give credits to him, my girl and my parents, for helping me, believing in me, supporting me, motivating me, trusting me through this journey. It's still a long way to go.
Let's see, what's coming next.
Introduce your Co-Founder/Founders and Team.
I'm the only person who founded IWriteWhatyoufeel. One Man Army, haha! I create content, edit it, post it on all my social media handles like Instagram, YouTube, Facebook and TikTok. And manage my website as well.
I never ever imagined myself mentoring, educating and helping 1.3+ Million people at a time. This feeling is so special, that it cannot be expressed in words. I'm so blessed to make millions of people smile because of me.
To read, listen and watch what I create. This feeling is incredible.
---
Read Also : Meet Dr. Harish Rawat, Founder of 'Lot of Laughter Yoga Foundation – LOL Yoga' | Shares his Motivational Story
---
What makes you special and How you think iwritewhatyoufeel is different from others?
What makes iwritewhatyoufeel different from others is creating a connection of heart to heart. Creating a content which people wants to see, not what you want them to see. Creating something which will help them in one way or another to deal with the situations of life. And of course, the voice.
People always compliment me for my voice, that's one of the most natural and original things of Iwritewhatyoufeel.
View this post on Instagram
What challenges did you face while setting up iwritewhatyoufeel? How did you overcome?
The growth was one of the barriers I have faced from the starting. As I told, it was difficult for me to grow a page with such a content which millions of people are creating. So what makes you stand out of the crowd? I changed the content and it went viral.
I believe when I started creating voice quotes on Instagram, a very few people were doing it. So, it was something new for the people to get entertained.
What's the Current Path, i write what you feel's Funding Status and What are the Future plans?
Funding basically comes from sponsorship, promotions/collaborations and YouTube. This is the only source of funding at the moment. I'm going to start something big on my website, and also hoping to launch my own merchandise. I'm still planning for it.
---
Follow Anubhav on Facebook | Instagram
Subscribe on Youtube : Anubhav Agrawal
Visit : Website
---
It was great interacting with the team of Viral Indian Diary, you guys are doing really amazing job, inspiring millions of people daily. I really wish you guys all the best for your future.
Team VID congratulate Anubhav Agrawal for your success and We thank you for sharing your amazing motivational story with us. We wish you all the very best for the future.