Dr. Naima Shaikh Interview, eKrishiKendra startup story
Startup Highlights
Dr. Naima Shaikh's farming background inspired her to create eKrishiKendra, an innovative AgriTech platform.
eKrishiKendra connects farmers, experts, and businesses, offering market linkages and weather-based crop management.
eKrishikendra, a five-year-old startup, boasts a network of over 105K farmers, 15K buyers and sellers, 550+ agricultural experts, and 2.5K+ agricultural students spanning across India. Which equals 123,050 individuals connected through eKrishikendra.
The startup stands out with a focus on digital solutions, bridging the gap in the agriculture sector.
Dr. Naima overcame challenges like financial constraints and gender-related hurdles with determination and support networks.
eKrishiKendra's future plans include launching a weather-based Digital Agriculture Advisory Service, while Dr. Naima encourages aspiring entrepreneurs to embrace risks and market research.
Meet Dr. Naima Shaikh, founder of eKrishiKendra
I'm Dr Naima Shaikh, founder of eKrishiKendra and Managing Director of AgriDigi Tech (OPC) Private Limited. I have completed a doctorate in Agri-Business Management. I have been working in the agriculture sector for the last 7+ years.
When and How did you start eKrishiKendra?
I grew up in a farming background in Navsari, Gujarat. I started my entrepreneurial journey in Agri-tech in 2017.
Before starting my business, I worked as a project manager in an agri-input manufacturing company where I learnt about the nuances of the agri-input sector.
I also learnt about the challenges of farmers in areas such as crop management, farm produce sales and agri inputs purchase. This led to many discussions with the managing director of the company in which I worked.
We decided to offer a new initiative for the agriculture sector and launched eKrishiKendra an agri portal in 2017.
Who inspired you to start eKrishiKendra?
I got inspiration from my co-founder Narendra Savaliya. By implementing his IT experience and agricultural knowledge, we succeeded in finding solutions to agricultural problems and we came up with an innovation in the field of agriculture which is ekrishikendra.com.
Introduce eKrishiKendra's Co-Founders and Team.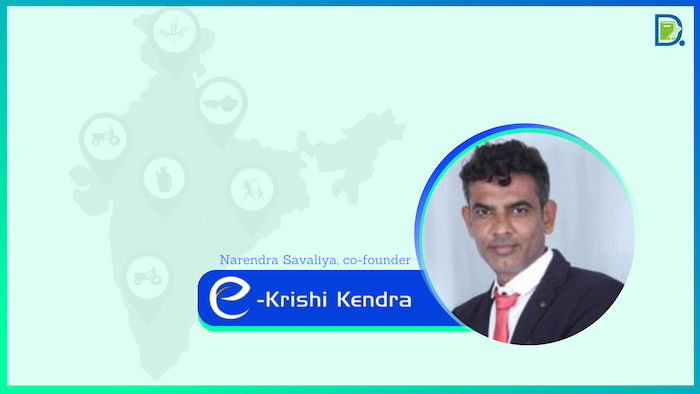 Narendra Savaliya is the Co-founder of eKrishikendra. He is the CEO of AgriDigi Tech (OPC) Private Limited.
He has completed his bachelor's in Computer engineering and he has been working in the agriculture sector for more than one decade.
What makes eKrishiKendra special?
eKrishiKendra is one such Agritech startup investing in digital agriculture innovation to secure Food, Yield, and Livelihoods. ekrishikendra.com is a web-based farming management platform and India's largest digital agriculture portal which connects Farmers, Agri Input Industries, the Agri Bazaar sector, Agri Experts and Agri students under one platform under a single roof.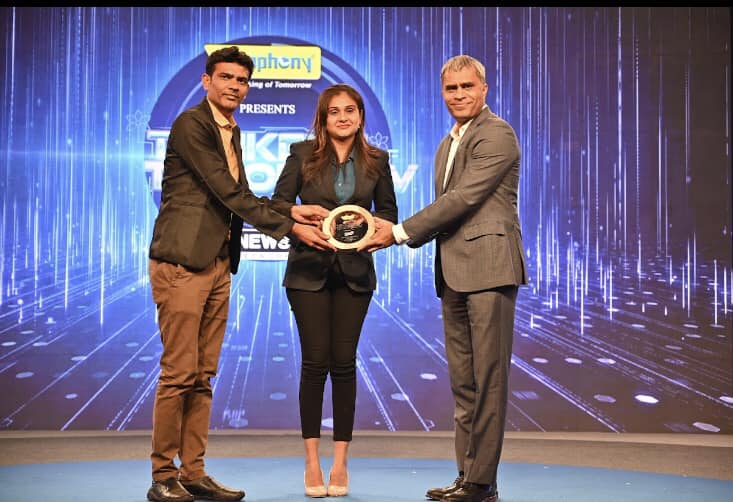 A portal to make Farmers' linkages to input markets, output markets, and services. A unique rostrum for the transfer of knowledge with a dynamic virtual network that enables farmers around the country to interact and exchange knowledge with each other. It has opened new channels for farmers to buy agriculture inputs and sell farm produce online.
It's helping farmers aggregate into farmer-producer organizations and negotiate prices from crop offtakes. It facilitates farmers to reach out the multiple buyers and get higher prices for their products. It's allowing farmers to contact technical agricultural advice and knowledge for better crop cycle management through solution corner, training corner, video library and meeting room facilities.
Revolutionizing Agri Input Industries and Creating an Integrated Agri Bazaar
An Agri-Business e-podium that caters to the needs of Agri Input Industries by providing a B2B marketplace, B2C/C2B platform, Dealer network, marketing kit for Agri companies, and employee recruitment facility, from a single window. It facilitates building a brand in the digital space to attract more clients and helps in business recognition in the online market. It's transforming agri input industries' business model from traditional to digital, optimizing their work based on actual market needs and linking the value chain.
An Electronic Agri Bazaar which networks the farmers, APMCs, mandis, commission agents, wholesalers, retailers,  FPOs, food processors, and exporters to create an integrated supply chain under one roof for agricultural commodities. Digital services are provided through various modules such as e-Mandi, online trading, bidding and retailing, futures trading, commodity exchange and talent recruitment. It facilitates web-based information flow, of the daily arrivals and prices of commodities in the agricultural produce markets spread across the country.
It facilitates digital distribution channels in order to avoid intermediary structures and to increase profits, and it makes the agricultural value chain transparent, enhances food safety and combat fraud; and potentially enables new demand-side policies to promote sustainability. It gives a golden opportunity to market agricultural products not only to local and national but to a global market.
Empowering Agriculture Through Expert Guidance and Education
An interactive platform where Agri Experts are connected with farmers to provide multidisciplinary agronomic information and services. Agri experts are helping millions of farmers gain access from the palm of their hand to the best agricultural actionable knowledge and advice through Live farmer meetings, Live Dec and video library facility. It facilitates the agri experts to switch to digital ways for service delivery among farmers and better serve farmers. Agri experts provide online teaching to agricultural students.
An integrated e-education portal with the aim to cater to the search of Agri Students in the context of information and career. Services such as e-classroom, e-library, e-learning, video library, workplace, and job placement are integrated into one system, to enable agri students within education and career.
Social- commerce incorporates a timeline, page line, Discussion forum, and blog services for every registered member. Regular updating of agriculture schemes, news & exhibitions.
Our Competitive Advantages
We stand apart from our competitors by providing a unique service which is a first in the agriculture sector.
Working in Market Linkage, FaaS (Farming-as-a-Service), Farm Inputs, Precision Agriculture, Agri –EdTech segments.
Operating through mobile App, Mobile browser and web browser.
Weather-based complete management of crops based on all the crops grown in the districts. Farmers can create profiles of crops grown in their field and receive alerts and notifications through SMS and voice messages for the same.
Gives alerts about weather situations and notifies for crop production practices such as sowing time, fertilizer application, possible pests and disease attacks, pesticide spray requirement, irrigation situation, intercultural operations and harvesting time as per weather situation.
Every stakeholder of the Agriculture sector in one place
A unified network for farmers, Agri-input, Agri Experts, Agri Students and Agri Bazaar under a single roof.
Suggesting agri inputs to farmers by technical names.
Illiterate farmers can upload their problems through images, Audio, and Video and get solutions.
What challenges did you face while setting up eKrishi Kendra?
The entrepreneurial journey can be a challenging one. I had to face challenges such as initial investment, financial management, limited access to technology and connectivity, cost of technology, barriers to adoption, farmers' concerns about digital literacy, data privacy and security issues.
Also as a women entrepreneur faced challenges, such as difficulties in obtaining funds, lack of guidance and resources to grow, complex regulatory environment to operate, feeling respected as business owners, building a support system, defying social expectations, struggling to be taken seriously, owning accomplishments, Balancing business and family life, coping with fear of failure, etc.
To overcome these challenges, I created my own support systems, overcame my insecurities, and reached out to other women entrepreneurs. Look to other women who have succeeded in the workplace and who also have responsibilities. Looked to change my mindset and looked to peer group support. I understand others and learn from them. Of course, once you understand the true power of role models, you can give yourself permission to become one yourself.
What's eKrishiKendra's Funding status and future Plans?
Today, eKrishikendra is a five-year-old start-up with registered 105K+ Farmers, 15K+ Buyers and sellers, 550+ Agri Experts, and 2.5K+ Agri Students from pan India.
Our startup has presented as a Media Partner or Supporter in Agriculture exhibitions & events organized in India, Africa, Dubai, Saudi Arabia, Egypt, Spain, Nepal and Tanzania Since 2018 to till. Around 500+ interns have done project work in our company from the post-pandemic period to till.
eKrishiKendra Funding status
We're bootstrapping.
eKrishiKendra Future Plans
The upcoming plan of the company is to launch the Farm Timeline program which is a weather-based Digital Agriculture Advisory Service.
Dr. Naima Shaikh's message to the new entrepreneurs.
To budding entrepreneurs, I'd say, take the plunge and venture out, don't be afraid of failure. Although growing any business will take time and energy.
I suggest some important aspects which should be considered by an entrepreneur when he/she starts own business. first of all do market research, followed by Analyze Your Competitors, Understand the Risks and Rewards.
Stay focused on achieving your short-term goals. Providing great customer service is important. you need to be flexible and have good planning and organizational skills.
Make sure not only that the business is ready for launch, but you are as well. Participate in Networking Events and extend to New Markets.
Dr. Naima's few words about VID at the end.
It is a very good platform which creates awareness about the entrepreneurial environment in India as well as supports startups to reach out to the audience.