Q. Please Introduce yourself. (About Arpan Khosla, Rhymly Founder & CEO )
Hi! My name is Arpan Khosla & I'm a professional Hindi POMEDIAN (Poet + Comedian ) & have been writing for the last 11 years. I have performed over 400+ events in my native city Delhi under the brand name of KHOSLA KA HAUSLA.
I graduated with an engineering degree in Instrumentation & Control from NSIT in 2015, did a job in Airtel for 20 months, found it boring, left it & now have been self employed for the last 20 months.
Q. When and How did you think about Rhymly?
I have been a Poet & creative writer for more than 11 years & the only thing I have learned is that if you wish to earn money from writing then you need to concentrate on deadline based creativity. My biggest motivation was the fact that a lot of writers suffer from writer's block, had incomplete artistic pieces & were cramming the rhymes of their pieces in their brains all the time as most of the poems, songs & raps depend on rhymes. Also, most of the other startups in the same domain help writers share their talent, but we apart from the sharing part, wanted writers to create a better quality of content, save a lot of time on it & concentrate on creativity & leave the vocabulary part to a personal digital assistant resource like "Rhymly".
Q. From whom you got inspiration to start Rhymly and Who is your mentor?
My inspiration was the fact that the respect for creative writing in India has grown considerably in the last 10 years  after the likes of TVF & Scoopwhoop & also people have started appreciating creative & not just massy content. So, I just wanted to create a platform where every writer is able to write better with the help of a tool & earn money down the line.
My will was my my only mentor!
Q. Introduce your Co-Founder/Founders and Team.
Vishal Kalra(CTO) : Software Developer, Nearbuy & Engineer from NSIT.
Aakansha Aggarwal (Design Head) : Architect, Ashok B. Lal architects & alumni of USAP, IPU.
Q. Explain more about Rhymly, What makes you special and How is it different from others?
Rhymly is a one-stop content tech platform that helps budding creative writers search rhymes & meanings of Hindi words, create original couplets while rhyming on the fly, discover & share awesome content & also get themselves featured on the app every day.
We help Poets, Shayars, Songwriters, Rappers, ad agencies, jingle writers, etc. save a lot of time on their art pieces, break their writer's block, create more & a better quality of content & concentrate only on creativity while leaving the Vocabulary part to us.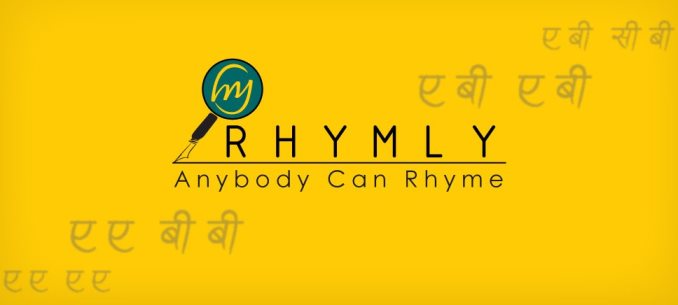 Our unique proposition is that we cover the entire process of short content rhyming, writing, storing, sharing & discovering on a single platform & a creative writer doesn't need to go to multiple platforms for all these things.
Q. What challenges did you face while setting up Rhymly ? How did you overcome ?
There were some challenges which I think every entrepreneur faces.
Convincing parents & people that you can do it
That it's not a niche problem
Finding the right team
Capital & expenses
But I guess I overcame most of them with the thought that I'm here to make my legacy and not merely survive. I have faced tough times because of my dreams and decisions, but I do have developed a never quitting attitude in times of hardships. There is a poem of mine in Hindi which I would like to share, which keeps me afloat when I think I'm drowning in helpless waters.
"Chaahe toot ke aa pade tuj pe

museebat kitne hi bade paimaane pe

madad ki apeksha mat kar tu

ek inch farak nai padega zamaane pe

mat le imtehaan aansuon ka apne

naa gaa baar baar kismat ka rona

bachpan nai hai dost ab ye

sirf ungli rakhne se naa milega khilona

rukh se karvate aise chupaale

ki dhongipane ka puraskaar mile

mann mein seenchle pathar ki deewarein

ki dhundne par bhi na koi daraar mile

tujko to bsss suraj ki parchaai banke

nayi roshni ki or chalna hai

shaam ke andhere to dastak dete rahengay

par tujko kabhi naa dhalna hai

tujko kabhi naa dhalna hai!"
Q. What's the Current Path, Rhymly 's Funding Status and Future plans?
We are bootstrapped right now & are actively looking for seed funding. We have an acceleration offer & Our platform has 18000+ users combining our app & website both, over 35,000 couplets using 100,000 searches have been written on our platform.
Also, We have been featured by over 18+ web tech platforms  like ScoopEarth, The Tech Panda, Storymirror, etc. , All India Radio, Radio city & also in newspapers like Okhla Times ( all organic ).
Download Our App Here
Visit Our Website | Follow Us On Facebook | Twitter | Instagram
If you would like, you can share a few words about VID at the end.
I like how VID is working for Indians in a very non stereotypical way. Also, how you share both commoners & famous people's stories, that's awesome. 🙂