Name: Chewang Norphel
Age: 82 (about)
Profession: Civil Engineer
Titled as: The Ice Man of India
About Chewang Norphel:
Some people believe angels have no specific face and shape; they can come in any form they like or desire to help those in need. Chewang Norphel is one of them whom people recognize as 'The Ice Man of India'. Chewang is neither a prominent scientist nor a high profiled industrialist, but he has done something that some of the top industrialists and government officials failed to do. Instead of giving millions the fake hope of development, he believed in his own hope of doing something for Ladakh's water crises challenge.
Chewang is a diploma holder in civil engineering and belongs to a middle class family. It was in 60s when he joined Jammu and Kashmir at the post of a civil engineer. After retiring from this role, he participated in the Leh Nutrition Project. It is an NGO that concentrates on the development of various aspects in Ladakh.
Norphel innovated the idea of building artificial glaciers so that the ground water level increases and adds up to sufficient quantity for agricultural and irrigation projects. He strongly believes that Agriculture is one of the most important features of India and it must not be killed by excuses like shortage of water and drainage issues.
Project of Artificial Glaciers by Chewang Norphel :
Chewang was once sitting outside his house when he noticed a small stream of water from his water tap that flowed turned into solid ice under the shade of a few trees. Within no time, that pool of water became a sheet of frozen ice. Except for the area of the trees where the water got frozen, it flowed freely in the rest of the surrounding areas of the yard. That was the moment when he realized that flowing water freezes sooner than the sluggish water that settles beneath the tree. He started to create artificial glaciers and diverted these through the river into the valley.
Chewang Norphel built 12 glaciers all on his own for irrigation process.
At reaching a point during the summer season, these glaciers melt down and provide sufficient water at lower elevations to conduct the irrigation process smoothly. One of the largest glaciers built of Chewang include the one that flows at the Phuktsey Village. The size of the glacier is about 1,000 feet long, 4 feet deep and 150 feet wide. In simple terms, it means that it can supply water to almost 700 villagers at a cost of just 90000/- Indian Rupee. Similarly, Norphel has successfully built about 12 artificial glaciers by 2012 and he continues to do so for the development of villages as well as the people residing there.
| Read Also : Meet the Medicine Monk 'Omkar Nath Sharma' Who Distributes Free Medicines to the Needy
Awards and Recognition Attained by Chewang Norphel :
Jamnalal Bajaj Award – 2010

Padma Shri – 2015

Titled – Fourth Highest Civilian Award of India (Padma Shri) – 2015

Titled: The Ice Man of India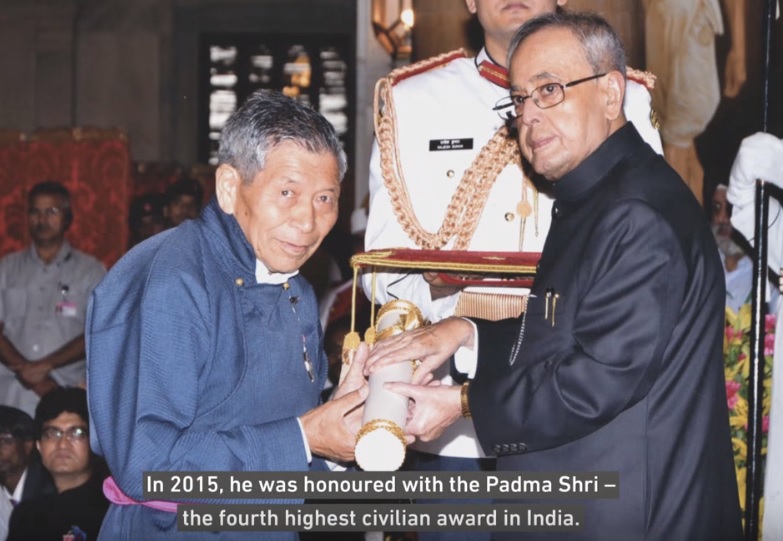 Motivational Factor about Chewang Norphel :
We often keep criticizing the government and our destinies for living a miserable life. There are very few people who take the stand, pull up their socks, and do something for the betterment of the society at large. We are responsible citizens of India, it is our nation and our mother earth; we are one family! If someone in our family is in trouble, we get up to help instead of blaming the Government and the destiny.
Similarly, Chewang Norphel took the initiative to do something for his family in Ladakh. He considers the entire village as his mother town and wishes to continue doing something beneficial for the people of Ladakh. I don't know if I know many who think like Chewang Norphel; he is one of the rare personalities born with such special human values. I respect his humanity and value his intellect. Without any government support or any funds, he convinced himself to begin the Glacier project all by himself.
People laughed at him, cracked jokes of his nonsense thought of building glaciers, but Chewang believed in him.
As they say, the initial phase is always difficult. People laughed at him for his thoughts and no-one believed in him, but he never gave up on his dream! Chewang Norphel is a perfect definition of a true Indian who continues to inculcate human values in little kids and teach them the value of water. My salute and respect to this angel in the face of a human.