Quick Bio Of Dr. Harish Rawat !
Founder : Lot of Laughter Yoga Foundation – LOL Yoga
Guinness Book of World Record Holder
Limca Book of world Record Holder
VID : Please Introduce Yourself!
I am Dr. Harish Rawat, an INTERNATIONALLY CERTIFIED LAUGHTER YOGA COACH, who genuinely loves to bring joy and peace into people's lives, so that they can have a stress-free and disease-free, healthy and happy lifestyle.
And with lot of humility, I would also like to share that I could successfully manage to put India's name on the global map, by creating a recent GUINNESS BOOK OF WORLD RECORD for having clocked in the largest no. of hours of while performing laughter yoga.
I was able to break the earlier record which was about 24 hours, and create an unprecedented history by doing a straight 36 hours and 2 minutes of Laughter Yoga! If I may say so, that in itself is a mammoth task involving huge planning, practice and strategics.
Being born and brought up in Delhi, I have spent most of my life in Northern India. After finishing my schooling in Delhi, I moved to Dehradun for my Pharma-degree and post-graduation  Degree in Bio tech studies. I later went ahead and pursued my PhD in Alternative Medicine At Kolkata.
On the professional front, I possess an all-round expertise in Clinical Data Management and have been working with a Multinational Tech Company in Noida for over 12 years now. I am currently residing in Ghaziabad along with my wife, Dr. Reena Rawat and my young son, Rudra.
VID : When and how did you think about Lot of Laughter Yoga Foundation? 
It was during my corporate journey, that I realized how even highly talented and skilled people cannot perform optimally, if they are emotionally imbalanced and stressed out.
Several research studies point out that, that the long work hours, the fast-paced modern lifestyle, the time spent in commuting, the constant technology demands etc. can take a heavy toll on an individual's well-being, and can even lead to a burnout, if not managed properly at the right time.
Usually, in high pressure work environments, the stress levels are found to be detrimental, thereby leading to various physical and mental ailments and even causing huge losses to the companies' due to productive hours lost in employee-related issues such as absenteeism, attrition etc.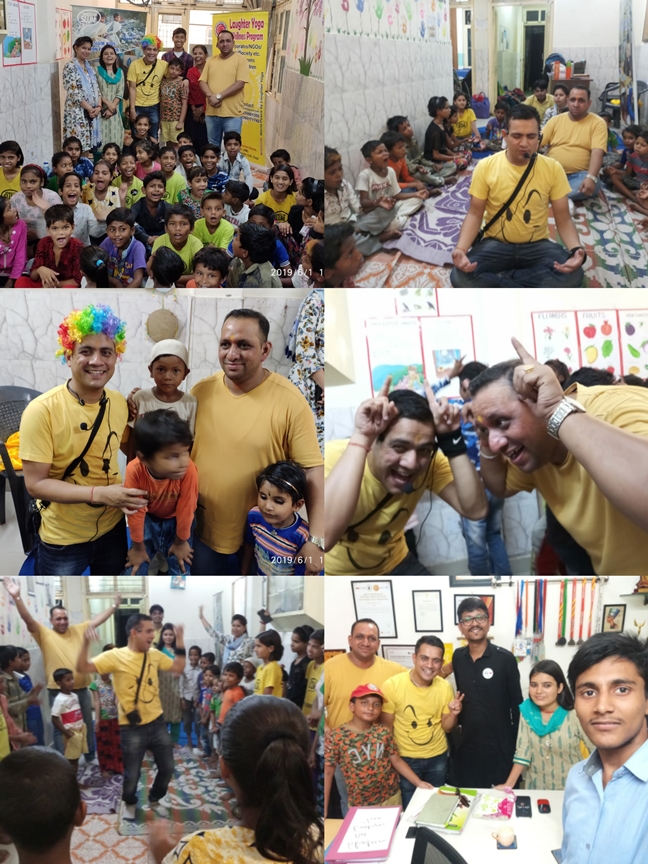 In fact, I was saddened to see that due to our hectic and unhealthy lifestyle, most of us have even forgotten to have a hearty laugh.It was indeed a pathetic situation that demanded an easy and effective solution.
It is then, that I decided to do find some solution to help alleviate these stresses and tensions levels and get back joy in people's lives. So, I started doing some research and came across some videos on how laughter can contribute towards a healthy and happy life.
Going deeper into it, and practicing it myself, I did find some positive differences. This promising outcome encouraged me further to take it ahead. It was around 2015, that I started conducting workshops of Laughter Yoga and observed its immense benefits at various levels.However, I wanted to learn more about it, and so acquired an international accreditation in Laughter Yoga.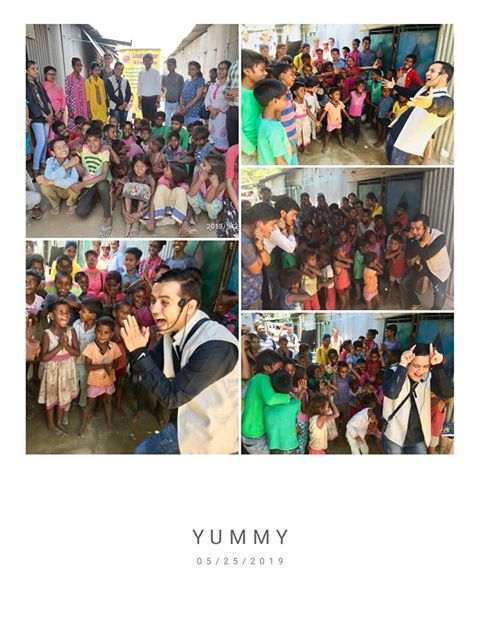 Having come this far, I decided to start the 'Lot of Laughter Yoga Foundation', with a mission to bring about World Peace through laughter. It is my belief that people who laugh more, are usually found to be stress-free and happy, and they are more likely to be peaceful in their interactions with others, thereby contributing towards achieving global peace. This is in itself is the very essence of my Lot of Laughter Yoga Foundation.
VID : From whom you got inspired to start Laughter yoga foundation and who is your mentor?
Though I have always been a self-motivated individual, I would like express my heart-felt gratitude towards to my master, Gurudev Sri Sri Ravishankar ji, the Founder of The Art of Living Foundation (AOL) for being my inspiration. It is because of my association with AOL as a Faculty for more than a decade, that I have learned the importance of human values and the need to serve the world with a smile.
I would also like to thank my parents for inculcating great values in me, and taught me never to give up. It is because of such mentors, that I continue to strive, till I reach my goals.
| Related : The Man Of The Millennium Palam Kalyanasundaram Spreads Kindness Like A Bonfire
VID: Introduce your Team.
Currently, I am operating as 'one-man army' and single-handily managing all the activities of the Lot of Laughter Yoga Foundation. I am also glad to have received immense support of my family and friends in my mission. However, going further,as we scale up, I would like to welcome more people on board to take the activities of the foundation across the globe.
VID : Explain more about Lot of Laughter Yoga Foundation, What makes you special?
It is true, that there are various methods and techniques available to help reduce stress, however Laughter Yoga is found to be cost effective, less time-consuming and can be performed as a single exercise routine, which reduces physical, mental and emotional stress simultaneously and brings about an emotional balance. Also Laughter Yoga is unique in itself, as it combines the benefits of deep yogic breathing and laughter exercises.
This in turn, oxygenates our body and brain, and makes us feel energetic and enthusiastic.
Also, while, there are many Laughter Yoga clubs, what sets my Lot of Laughter Yoga (LOL Yoga)apart, and makes it quite unique, is that I before start any workshop, I undertake a detailed study of my audience, their needs etc. and thereby endeavor to provide complete customization as per their requirements.
For e.g., when I am conducting the LOL Yoga-workshop in a slum, I usually inculcate specific exercises, creative and comical ways and props, which the people living in the slums can relate to, such as incidences from their daily life. By doing so, not only it becomes easy for them to participate, but also adds an element of fun and excitement to their mundane lives.
Similarly, when I am conducting a Corporate LOL Yoga Workshop, I try to include some of my self-designed modules basis my understanding and observation of their needs.
I also include other scientific techniques like Laughter Dance therapy, Gibberish (Art of Non-Sense) therapy; Laughter Music Therapy, Breathing exercise, Laughter Storytelling, Animal laughter etc.In fact, it makes me happy to share that most of clients, request a repeat workshop with me, as they thoroughly enjoy the LOL Yoga and also experience immediate benefits.
Just to share a few details, till date, I have successfully conducted LOL Yoga Workshops across hundreds of corporates, Institutes, Government Agencies, NGO's, Societies and Public and Private Schools, benefiting more than 15,000+ people and this number is increasing with each passing day. I cover approx 50 NGOs who working in Delhi and NCR and 5 slum area.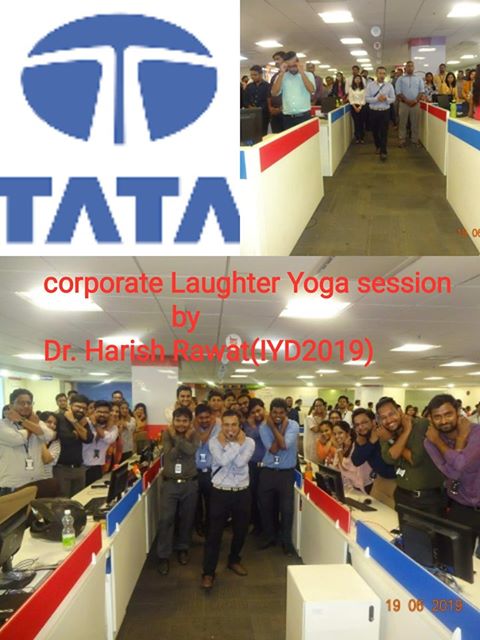 A few benefits of the Laughter Yoga:
Mood Enhancer: Laughter has the power to uplift your mood in just a few minutes itself, by releasing endorphins in the brain.
Stress-Buster: It helps reduce stress and also strengthens the body's immune system.
Peak Performance: It helps to improve efficiency and performance, by increasing the net supply of oxygen, as well as enhancing the mood. Both these factors are known to play a vital role in achieving performance.
| Read Also : Sandeep Maheshwari : A Motivational Speaker, A Man with Hundred Dreams and Million Followers
VID : What's the major challenge that you faced in your life? and Big change while setting up Laughter Yoga Foundation? How did you overcome?
Coming this far in my journey as LOL Yoga Coach, and setting up the foundation, has been full of leanings and challenges.To share a few, when I first decided to do the Guinness Record, I had to encounter numerous hurdles at various levels.
Right from arranging the necessary finances to initiate the process, arranging for volunteer participation, designing the complete event, module-by-module, processing tonnes of paperwork, fulfilling all the necessary requirements as per Guinness standards, and the entire event planning and co-ordination was quite a huge task and called for a great amount of resolve as well as time, money and energy.
Sometimes, I do face challenges, while convincing people to take up LOL Yoga on a regular basis. The issue is that they know that it is good for them, but are not disciplined enough to practice it every day. However, I am sure, with time, more and more people will join and practice LOL Yoga for a better life!
My motivational message to my readers is perfectly summed up in my tagline itself, "Jeena Hain To Hasna Sikho!"It simply means, if you want to live happy, learn to laugh more!I would also like to add that, come what may, never quit – you can pause for a while, but don't ever stop!
VID : Please mention all the Achievements / Awards you received.
Enlisted here are a few of the awards and recognition, that I feel honored to have received:
Guinness World Record Holder –Longest Laughter Yoga Marathon(36 Hours 02 Minutes) for Mission World Peace
Tata Volunteer Champion Award (March'17) by the Tata Sustainability Group
Recognition from HT Paathshala
Certification of Appreciation for conducting LOL Yoga session atthe Rotary Club
Best of India Record Holder
Art of Living Faculty
International Certified Laughter Yoga Coach
Ambassador of Change Award 2018 By Nidhi Foundation
Laughter Yoga Facilitator in Zorba the Buddha, Delhi
Laughter yoga Facilitator in Speak-Out solutions
Society Development Award 2019 
Limca Book Record Holder
Appreciation award for conducting laughter yoga in Well Being NGO
Corporate Appreciation Award from TATA Group
Kerala Book of World Record Holder
VID : What's the Current Path, Lot of Laugher Yoga Foundation's Funding Status and Future plans?
Currently, the activities of LOL Yoga Foundation are supported by me. However, I am already working towards making it self-sustainable.My future plans include, more school tie-ups, involving various NGO's that working for different social causes etc.
I am also looking forward to conducting the Training the Trainers Program, to get more people join this wonderful cause, and reach out to more and more participants in every corner of India.
It is my also my dream and goal to take LOL Yoga Foundation across the globe and thereby contributing towards achieving world peace.
Thank-you!
—— I like to thanks to Viral India diary to give me opportunity to share my story . The Viral India Diary is right platform to express my story.
---
FaceBook Profile: Dr.Harish Rawat
FaceBook Page : Lot Of Laughter Yoga -LOL Yoga by Dr.Harish Rawat
You Tube channel : Laughter Yoga by Dr.Harish Rawat
Website: https://lot-of-laughter-yoga.business.site/