ABOUT DEALWALA
Deawala is one of the prominent concepts in small business sectors with a vision to expand its wings in the near future. The business was established in Hyderabad by four young aspiring entrepreneurs, Avdesh Agarwal, Krishna Agarwal, Shubhank Gupta, and Umang Tolasariya. They are pursuing their BBA, while focusing in the core responsibilities of business.
The process of Dealwala involves issuing a discount coupon book, valid for one year. This discount coupon startup business was launched on 1st the week of January. The company is in the process to launch a mobile app to give you simplified business and ease of operation.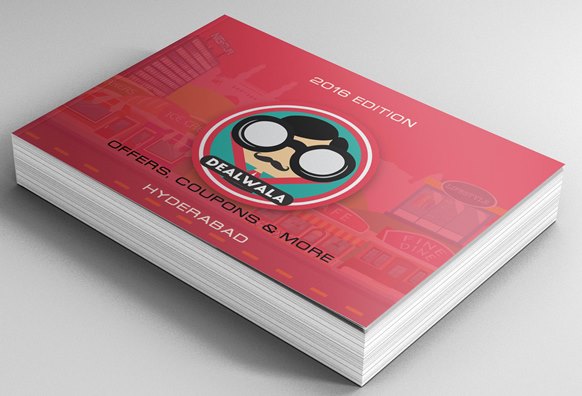 The Dealwala booklet consists of more than 300 coupons that relates various activities like; food, entertainment, leisure, shopping, and travel.
The Launch of Startup Business
The concept of Dealwala coupons was originally created by two friends, who were sitting in a café of Hyderabad. They had overheard people seeking discounts on the bills. The discussion continued for some time over the table and this converted into various meetings with more people thereon. Finally, the day arrived when four members united together and decided to give it a final call of launching.
Dealwala is a brand today in Hyderabad and contains some amazing deals that are worth for people working in different companies. This is a trendy concept in the market and the majority of the international companies follow it to encourage their staff. The name is a perfect blend with Deal that stands for business and Wala that means carriers in Hindi. They further added some fun and creativity in the mascot of the name.
DealWala targets the people who fall in the age group of 15-50. It is a concept that covers teens as well as senior citizens.
How it started?
With much of efforts in the launch and initiatives taken by the four members, the business was established with the mission to expand nationwide. DealWala enjoys a legal liability and licensed business to provide you more safety of your discount coupons.
Although, the four partners got support from their family, it wasn't an easy challenge to face for the launch of business. These four young business candidates manage their studies, business, and family life just perfectly. It is due to their continuous efforts that has brought them this recognition in such a short span of time.
What are the benefits of DealWala?
There are several advantages of using DealWala coupons. People who find it difficult to carry liquid cash in their wallets, this concept is a boon to them. We serve every customer with pride and confidence. The discount booklet is an initiative taken to save the money of the people instead of spending more on the tipping and bills. This is also a status symbol for those who borrow money from their friends to pay their hotel or shopping bills.  
The objective behind the business is to let the customers "USE DEALS WITH PRIDE".
Team Management
AVDESH AGARWAL – 20 years old. Pursuing BBA from ICFAI BUSINESS SCHOOL (IBS) Hyderabad.
KRISHNA AGARWAL – 19 years old. Pursuing BBA from ICFA BUSINESS SCHOOL (IBS) Hyderabad.
SHUBHANK GUPTA – 19 years old. Pursuing BBA from AMITY GLOBAL UNIVERSITY Hyderabad.
UMANG TOLASARIYA – 20 years old. Pursuing BBA from SP JAIN COLLEGE (GLOBAL TRICITY COURSE).
All the partners hold key responsibilities of the company and their remarkable contribution has made DealWala live and successful.
Challenges
Few challenges faced by the DealWala team are:
Managing work with college
Convincing parents in believing in our idea
Convincing people to tie up in the initial stages
Despite all the challenges, we have managed to prove our vision and help the concept reach our targeted customers for the startup.
Mission and Vision 
'THINK OF DEAL, THINK OF DEALWALA' – The motive behind our service is to provide comfort, convenience and confidence to the customers who use the discount booklet. 
MISSION: DealWala has a mission to get deals in every category throughout the nation and help the customers experience a better lifestyle.
Interview with ABN News at the launch of DealWala : 
https://youtu.be/izcljz22akQ