About Co-Founder and CEO of Fella Homes
My name is Digendra Singh Rathore, Co-founder and CEO of Fella Homes. I am natively from a small village near Ratlam in Madhya Pradesh. I had done my schooling from Udaipur and thereafter B.-Tech. in Mechanical Engineering from IIT Roorkee. It's been a adrenaline induced ride so-far and I am enjoying every bit of it. Time at IIT Roorkee has been one of the best phases. From the initial I was hooked into racing cars, co-founded the IIT-Roorkee Motorsports team, developed our F1 style race cars and took part in international events. Well, there's been a lot happening since then. I didn't took part in any campus interview. My vision was clear and I was certain – I wanted to create something on my own.
Interestingly there was about to be solar plant installation in IIT-R. I was a part of that and got interested in renewable and solar energy.
Q. When and how did you think about Fella Homes?
It all started with SolarWaale, our first startup and our visit to the Silicon valley in 2015. I, Yadwinder and Virender Pratap Singh were in Silicon Valley for 2 weeks for our Ycombinator trial. However, after coming back we had a paradigm shift. The tag line of Y Combinator is 'Make what people want', and somehow we had a spiritual experience in silicon valley. During our stay we booked our rooms through Airbnb and stayed at a nice place. It was pretty cheap for Silicon valley with all the amenities and facilities included.
We felt, living in such a place with no worries about the basics, these people were much more productive, happy and creative.
Came back to India, shifted rooms to Gurgaon and realized what a pain it is, and how we are still struggling with the basics. How would a person reach his full potential if he has to struggle with the basics? The wiring gone bad, if the water will come or not, power failure, and the overhead expenses. AC in the scorching heat of Delhi is not a luxury, it is a necessity. You can't keep your brain and body at boiling point at the same time.
That's when we conceived the idea. We wanted to make lives of people better. We started the groundwork by asking friends, how they would feel if they get a fully furnished flat at an affordable price, near their offices. Then there are sleepless nights, teamwork, loads of coffee and finally Fella Homes.
Q. Introduce your Co-Founders and Team.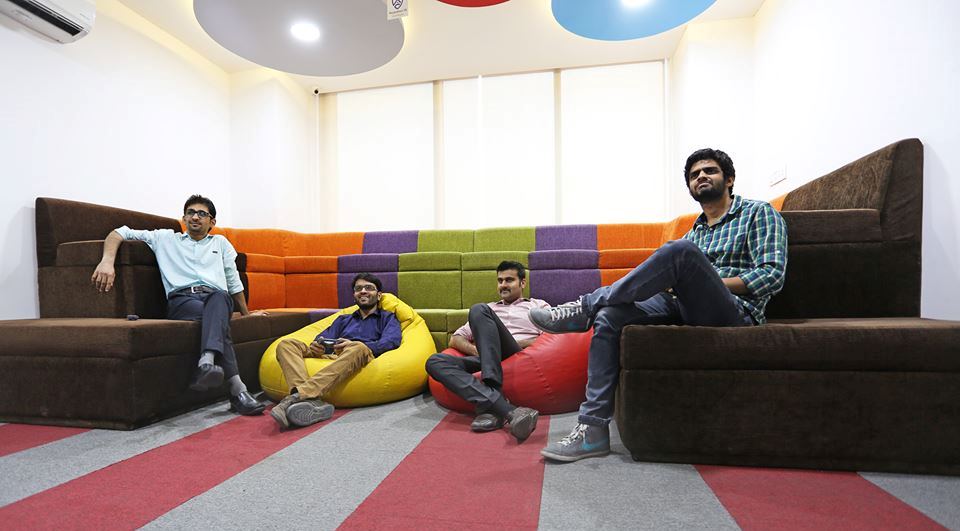 Kunal Singh : B.S, Civil Engineering – Purdue University, M.S, Stanford University
Yadwinder Paul Singh : B Tech, Mechanical Engineering- IIT Roorkee | Role: Tech Lead
Amit Gupta : B Tech, Electrical Engineering – IIT Roorkee | Role: VP Product & Engineering
Virender Pratap Singh: B Tech, Chemical Engineering –  IIT Roorkee | Role: VP Operations
Q. Explain more about Fella Homes, What makes it different from your competition?
Fella Homes is a startup based in Gurgaon, co-founded by a team of IIT Roorkee and Stanford graduates. We provides fully furnished ready to move in flats and rooms for rents at unmatchable price with zero brokerage. Fella Homes is simplifying and standardizing the whole process of renting for tenants and renting out for homeowners through its innovative and proven model that consists of both technology and end-to-end customer support.
Currently we are a team of 50+ people and aggressively expanding.  We are solving an age old problem that is growing bigger & bigger – housing. As city dwelling population is on the rise, there is more need for trustworthy rental services. This sector lacks standardization and one can't get assured services or quality after even spending a hefty amount. There is no quality benchmark, that's what we are creating. Happy tenants and equally happy homeowners!

Q. What's the Current Path and future plan?
By the end of 2016, we plan to make our services available throughout Gurgaon, Noida and Delhi. As a part of our expansion strategy Fella Homes has acquired Lifepad.in, a startup in our niche in July 2016.
We want to standardize the whole home rental model. Finding a home for rent should be as easy as buying things online. We want to eliminate the worries and insecurities related to rented accommodation in India. Steadily, we will increase our national presence.
Q. What challenges did you face while setting up Fella Homes? How did you overcome ?
We faced challenges and setbacks like never before. Firstly there were general problems related to startups- VC meetings, convincing, selling our idea and Fella homes funding etc. These are some of the challenges we have faced while creating Fella Homes, in no particular order.
Hiring was a major problem initially. We too started functioning from a basement. It was a major turnoff for many potential team members. When the company looked like just a concept, it was hard to find talents who believe in your idea and want to push the pedal harder. We understood the value of networking at that time. Our HR team deserves a special mention here, they are doing an exceptional job.
Next comes our business model itself. A home is one of few possessions close to an individual's heart. We had a hard time explaining homeowners our business concept. It is like a 180 degree shift in the mind of a homeowner to handing us the key of their home. It's more than just convincing, we have to build a trust to the level of a family member. Honesty and our dedication to make a difference in their lives helped. Now, that we are gaining popularity with an increasing list of happy homeowners, this problem is gradually getting smaller. But, it still prevails.
Sourcing products while transforming a home is another challenge we had to handle. In the process of fully furnishing a home we have to buy quality materials that include electronics equipments, furnitures, curtains and everything that a house should have. Being noobs in the field of sourcing, that also in household items, we were sometimes left scratching our clueless heads.
Our business model includes putting together strangers and making them roommates. People who never knew each other, come to live together. This is a combined challenge for tenants and us. Choices and preferences can collide. This needs a shift in human behavior, to get comfortable with the unknown, bond faster and to create lasting friendship. It is our emotional as well as ethical responsibility to make it a seamless experience. But we can't control 100% of this situation. Yes we are looking forward to create more friendships!
See, you have to embrace uncertainty and keep learning faster from your mistakes than anyone else. In a world filled with multiple options, "giving up" is not the one that you came this far for.
If you would like, please share your feedback about VID.
Motivation and positivity are highly contagious! I appreciate the efforts of the team of VID in spreading the positive stories that would inspire people throughout the country. Keep up your good work. Team Fella Homes wish you guys great success.