About Sharath Ramesh Iyengar Co-Founder, Nomadly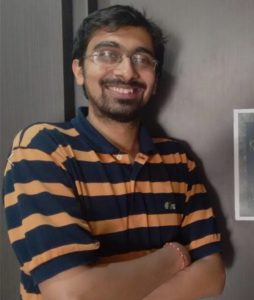 A true Bangalorean, Sharath was born right here and has spent all his life in the Garden City. A graduate from one of the top engineering colleges in India, NIT-K Surathkal, Sharath believes that the journey and freedom to work on his own terms is what makes it all worth for him.
The legacy Sharath hopes to leave behind is that of having built something from scratch and calling it his own; Nomadly is his second attempt at starting up a venture. His drive and calling as an entrepreneur can be attributed to having grown up in a middle class household –  Sharath holds the belief that if he creates something successful on his own, he can provide his family a better way of life, and smith a better future for himself, and also afford the lifestyle his friends have always had.
Besides working towards his goal of getting Nomadly in every Indian traveler's mind and growing it to be one of the top companies in the country, Sharath is also planning long-term towards his pet project – his plan over the next 10 years is to get all his close friends together and build a company that solely focuses on clean water and renewable energy.
Sharath also loves to travel and this is one of the reasons why he likes what he is doing. "Traveling has helped me realize that there is so much more to life than just work, money, relationships, and so on. Everyone has their own share of problems and if things are bound to happen then it will happen, be it good or bad but traveling can definitely help understand oneself better"," he says.
The young entrepreneur likes to learn from everyone and everything around him, and doesn't believe in giving up. The mantra that drives him is, 'Money will come and go but people don't'; he believes the people in our lives are the most valuable asset and bring meaning to each one of our lives Apart from being inquisitive and diligent, he is also fond of playing cricket, and watching TV shows and movies. He is also an amateur cartoonist.
About Rohan Ramdas Prabhu Co-founder, Nomadly
Rohan's journey towards becoming a programmer started off at a tender age of just 12. Being really fascinated by how programming works, he picked up a book on Programming C and tried to add two numbers which took him three weeks straight to attain it. This was long before Programming was introduced in schools. More than a hobby, his passion in computer science and programming has now become his career.
Rohan counts the summer of 2010 as one of his most significant accomplishments; he was selected for Google Summer of Code, a program run by Google where students are encouraged to contribute to open source. He wrote a scripting engine for KWin, the window management system in KDE. Why does this particular achievement make him really proud? A code written by him is still running on millions of desktops worldwide. Even though the scripting engine has been vastly augmented, his original codebase remains intact.
Rohan's goal to work towards building the perfect engineering product – from the software, hardware, human interfaces to the programming ecosystem, tooling, and development. He notes that, "It is rarely about the number of options available, but the number of philosophies that have driven decisions in IT and computer Science through decades". Furthermore, he believes that objectives are everything, it doesn't matter whether you do things to make money or to make the world a better place –  that's a personal instinct, but what matters is that the objectives are defined. Because a dream without a goal is just a wish.
In his current capacity as co-founder as Nomadly, Rohan has had to fill so many roles outside of engineering. His role requires him to constantly venture beyond just coding. What he loves about the current business they are in is that they are about travel! He believes that there are two different reasons why being in the travel space is so great. First reason, the wonders of the world beyond us appeals to almost every individual. Second, he sees the tremendous amount of potential technology has as a tool to optimize, improve, and disrupt the space.
Rohan is also a huge fan of gaming and spends most of his free time playing games, and the remaining time in reading, cooking and listening to music. Lately, he has also cultivated an interest in power-lifting.
Site : www.nomadly.in
Facebook : facebook.com/nomadlytravels