Interview with Rishabh Tanwar Co-Founder 'Sinoca Options'
Meet Rishabh Tanwar
I am Rishabh Tanwar and I am a co-founder of Sinoca Options. I finished my MBA from Shailesh J. Mehta School of Management, IIT Bombay in 2017 and before that I completed B.tech from Maharaja Agrasen Institute of Technology, New Delhi.
Before starting Sinoca Options, I was working in Siemens India in the Business Development role. 
I am more of a doer personality and prefer learning by doing something rather than spending long hours in planning the things first. So, naturally I made a lot of mistakes in the market but thankfully those were the mistakes which I could afford to make.
I never tried to avoid losses initially because I believe that they are essential for learning. But at the same time, I made sure that those losses would be limited and constitute just a small percentage of my trading capital. 
How did you think about 'Sinoca Options'?
Stock market has always fascinated me since when I was in school. I remember that I opened my first Demat account when I was in class 10th.
Since I did not have any income proof, the account was in my mother's name. And in less than a week, I blew up Rs 5,000 that my parents entrusted me with. Most of that went into penny stocks and high transaction charges.
During my MBA, I again felt comfortable with entering the market and this time I had much more knowledge about the company's financials and technical analysis than before.
But things actually turned around when I learned about the Derivatives segment. That is the kind of volatility I was looking for because I knew that I cannot earn a living with just investing in stocks right after college, and that too with minimal savings and an ongoing education loan. But Options trading changed everything for me, I heard enormous stories about people gaining 100% returns in a month and even going bankrupt in a week's time.
I did not come here to gamble my money away and hence decided to take a structured approach towards trading. After generating consistent returns on my account, I decided to finally scale up this business by starting Sinoca Options. 
From whom you got inspiration to start Sinoca Options?
Well, I have been watching a lot of documentaries about the trading journeys of big investors and traders, but the ones I really loved were of Ray Dalio, Jesse Livermore and George Soros.
After having a few early setbacks myself, I decided to finally invest in learning this skill first. I have had various training programs and have spent lakhs of rupees in developing my skills. The ones that really made a difference were from Option Alpha and Tasty Trades.
So, you can say that those are my mentors in the market. 
Introduce your Co-Founder/Founders and Team at Sinoca Options
Besides me;
Nitin Kumar is the other co-founder.
He is an MBA graduate from NITIE. We finished our degree in the same year and joined the same company as well.
He is the numbers guy who is extraordinarily good with analysis with Excel. Thanks to him, we were able to perform extensive back-test simulations and create trading setups from scratch. 
Explain more about Sinoca Options, What makes you special from other similar companies?
Since the last 2 years, we have been able to generate 4-5% monthly returns by writing weekly Option contracts of Nifty index on the expiry day. So, we trade only on Thursdays (which is the weekly expiry day) and with just that one trade setup, we have been able to generate consistent monthly profits.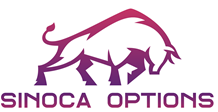 On our Instagram page, people can see all our P & L since the day we started trading.
On each Thursday evening, we post their results on the page – be that a loss or a gain. This level of transparency has enabled us to attract a lot of clients with a sizable capital.
The average ticket size of our client is Rs 10 lacs and currently they have 25 clients with them. 
Since Option writing requires a higher margin, the capital requirement for this trade setup is minimum 3 lacs.
Initially, a lot of people ask us-
"what if the worst to worst happens and I lose all my capital on the first day?"
This concern is coming out from personal experiences as well as the stories that they have read about other people losing all the capital because there were no risk management frameworks.
In intraday trading with high leverage, using Stop Loss is a MUST. We always trade with a stop loss, no matter how confident we are in their analysis and recommend others to do the same to preserve their hard earned money.
In the market, "return of capital" is more important than "return on capital".
So for us, even in the worst case scenario, the maximum loss is capped at 2.5% of overall trading capital. We offer the training service as well as portfolio management.
One characteristic that differentiates us from other trainers in India is that they provide live support to everyone that they have coached. Theoretically talking about a trade setup and showing examples of past data is important but it is equally important to assist the new traders in their trade execution.
We ourselves have spent lacs in learning from trading gurus around the world and always missed such kind of support during live trading. We are now trying to fill that gap in Sinoca Options.
Going forward, we plan to reach out to new traders who do not have access to large capital and for that they have launched a new service – Equity Seasonality report.
We have done extensive data analysis of stock price variation during particular periods of months from past 20 years of data on NIFTY 100 stocks and identified certain intervals where the share price has rallied more than 5% with greater than 80% accuracy.
Here is one insight that came from the Seasonality analysis – JSW Steel has given an average return of 5.4% from 1st Apr to 28th Apr in the past 13 out of 15 years. We analyze the data for such patterns and then take the trade in the Equity or Derivatives segment.
Every month, we identify such trades and then help their clients in generating profits by specifying the exact entry and exit price in the equity, Futures and Options segment.
What was the biggest challenge that you faced while setting up 'Sinoca options'?
So the biggest challenge that we have faced was changing the mindset of people.
Since we are trading in a very volatile segment of the stock market, a lot of people would just assume that we are having beginner's luck and it won't be long before we stop our operations. And at the same time, there is another category of people who think that the stock market can make them rich overnight.
And for those people, monthly returns of 4% are not lucrative enough.
They expect to earn 100% returns within a week. We have had multiple webinars and one-to-one discussions to set the right expectations and to show that Option writing has been a sustainable business. 
---
Related:
---
What's Sinoca options's Funding Status and What are the Future plans?
We are a bootstrapped startup.
Our plan is to enter into high frequency algorithmic trading. We have back-tested a few trade setups and plan to paper trade those in the coming months before setting up the infrastructure for an algorithmic trading desk.
Here, the client can start with a small capital of ₹2 lacs and need not participate in the trading at all. The bot would identify, execute and exit the trades on its own. The back test data of every bot would be available to the clients and will show them the important statistics such as the past returns, maximum draw-down, and maximum loss and gain on any single day.
---
Rishabh Tanwar | LinkedIn
Nitin Kumar | LinkedIn
Sinoca Options Website | Instagram | LinkedIn
---
A few words shared by Rishabh about VID at the end.
I think you guys have been doing an incredible job in sharing all the amazing startup ideas and inspirational stories. That has always motivated me personally to do something of my own. Such visibility helps the early stage ventures to get the required traction and can prove to be a game changer as well. 
Thank you Rishabh, for sharing your startup journey and amazing vision to the readers, we wish you all the very best with your venture.