[L-R] Suprabhat Sen, Manu Jain, Mukesh Kumar
"5 out of every 8 students are not satisfied with their choice of MBA College" Yes, you read it right. The situation is dismal and is not looking to improve anytime soon, until we stand up and do something to it.
Entrepreneurship is defining a new way of life for myself and serving society in a better way
Please introduce yourself
Suprabhat is the name given by parents, but friends call me Good Morning, which I don't like :D. I am a graduate from NIT Jaipur and have 4 years of work exp. as a Software Engineer in prominent IT companies of India. I am currently handling the Technology section of Admito (visit : website) where we are trying to build the most advance college selection platform for MBA aspirants.  Admito is the 2nd in series startup by us, in the Education Sector. The first one was Pass Karado (passkarado.com), an online platform to share academic material for engineering students.
How did you think about Admito?
Every year in India ,around 600,000 students aspire to join MBA programmes, in 4000+ colleges. While searching for a perfect college, a student searches  50 different websites, joins 100 discussion platforms and seeks consultancy from  various alumni and industry experts. The cost in terms of time, money and effort is huge and most of the time one ends up making a regrettable decision.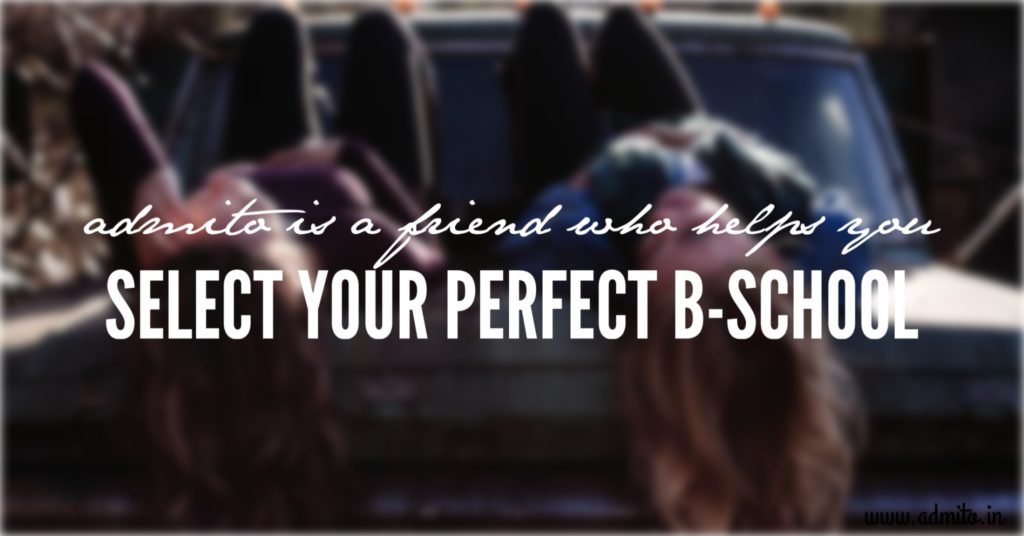 As a part of a research conducted by Admito, it was surprised to find that within one month of joining, 5 out of 8 students are not satisfied with their choice of B-Schools. We all are one of those who belong to the "5 out of every 8" student's community. We have experienced this stage of confusion and dilemma personally  wherein  the options are plenty but the choice has to be one.We at Admito believe that outsourcing their worries and complexities relating B-school selection can not only lessen their burden but also let them focus on their core activities. As a friend, Admito promises and goes by the saying-"You do your work and leave the rest upon us" .
Admito is an online platform to help select the perfect B-School.  It uses Machine Learning to refine the college list based on  your profile and preferences.
Introduce your Team:
When we dream big, we need a team of like-minded people driven by passion, to convert the dream into a reality. Admito was started by a team of 5 and so far, its vision attracted 6 more,  young, energetic and professional minds who help Admito fulfill its dreams  after their office hours. Other than myself, the other co-founders are
Manu Jain: The person behind playing the product and its team in the rhythm. His passion towards his work would be defining traits. Manu is an avid traveler and has traveled 3 continents so far. He has done his Masters from IMT Ghaziabad and Bachelors from NIT Jaipur.
Mukesh Kumar: The Solution Architect of Admito, Mukesh , uses his vast knowledge in computer languages and the lighting fast speed at keyboard to help the aspirants towards unparalleled services. He has worked in a major telecom company as a Software Enginner and did the graduation from NIT Jaipur.
The other enlightened minds involves Vijaykeerthi and Ankit-the super cool machine learning experts behind Admito's alogrithm; Devendra and Shivangi-the true marketeers, defining the goals and checkpoints for admito; Sanjit and Ankur- the geeks, maintaining the simplicity and interaction of the website.
Explain more about Admito, what makes you special?
Admito is developed as an effort to help you in choosing the right path of your life. It is not just a tool, but a friend which will understand you and your needs. It will give you the most accurate and correct information about the choices you have. An expert in profiling, a master in information processing, an ace in counseling, Admito delivers trustworthy intelligence at your fingertips.
Admito identifies the list of colleges as per the preferences and academic information given by the aspirant. It then allows the student to compare and analyse the colleges in the list. To compare and analyse colleges on subjective parameters like life@B-School, culture, faculty, Admito provides a discussion platform which has hundreds of alumni from different B-Schools to help resolve a query.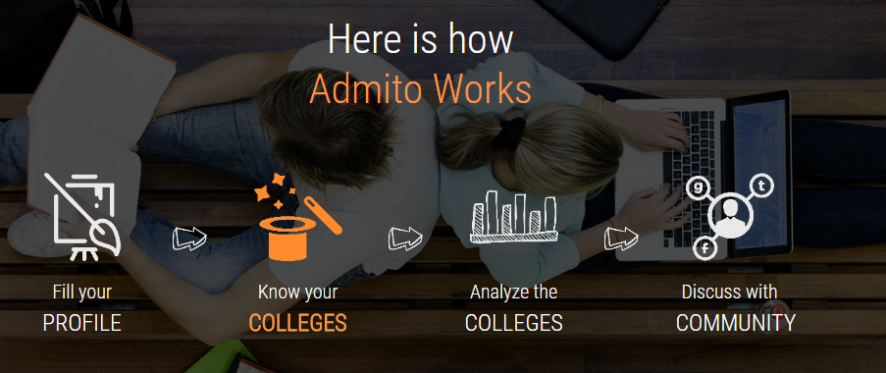 In the current market scenario, where competitors are fighting to grab the most authentic and exhaustive data,  Admito is building an algorithm to help predict the perfect B-School, by leveraging their hard work. In-house expertise, deep exploration and direction of the business specialists, make Admito's algorithm the most advanced  and precise in the Indian Market. Admito shall keep improvising the algorithm and uphold the position.
What challenges did you face while setting up Admito?
During the journey in Pass Karado, we realized the importance of preparation/planning. Pass Karado was a very promising startup and even managed to get international appreciation. It was the lack of processes which led it's downfall. Admito has undergone One-and-a-half-years of extensive research on all the major and minor stakeholders of Admission Journey before it could see the light. It is the process-oriented approach which avoided all the major obstacles like
(i) Market-Fit
(ii) Cash crunch
(iii) In-appropriate Business Model
(iv) In-effective marketing strategy
(v) No pilots/test run,
which any normal startup faces.
The major challenge we faced initially was- we expected the college administration to be supportive and pro-actively involved with us. Our revenue model was depended upon College Administration.  Kudos to our "Pilot Approach", which helped  us realize that it is the time to make a Pivot in the business model in the early days of Business.
What's the current Path and future plan?
Admito served its first admission cycle this year i.e. 2015-2016 and it is currently live with 50 B-Schools database and 2600 aspirants. Our strategy is to build our position as the key market player in MBA programs before scaling up our services for different graduate and post graduate programs.We aim to cover 600 MBA colleges and reach the target of 15,000 registered users by the end of  admission cycle 2016-2017.
Last Few words:
In the last 2 years more than 65 Ed-tech startups have raised funds for  more than $ 200 Millions which includes Vedantu,Toppr,  ByJu's, etc. Seeing the accomplishments of these,  6,56,500 more will come. We need VID and many such platforms to give the probable-viral-startup a chance to showcase.
If you like what we at Admito are doing, let us catch up over a Latte and talk about how can we can improve Education Admission Industry. Reach out to us at Suprabhat.sen@admito.in or +91-9717087420 (Manu Jain) . You can visit the website, admito.in