Little Aditya shares his success story of his invention to the world. I am proud of him and I am sure, after reading his story, you will be proud of him too.
Name: Aditya Joshi
Location: Pune, Maharashtra
Some Facts about Aditya Joshi:
A little boy named, Aditya Joshi has invented someone that has amazed the world. He has invented a spray solution, filled in a can. The solution once sprayed on hands or feet, quickly dries up and takes shape of a snugly-fitted gloves or socks. These can be easily peeled off after the use.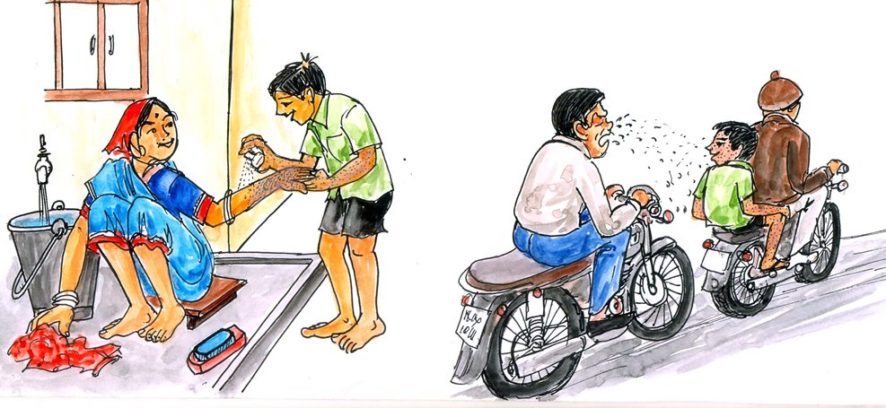 The spray solution is known to be very helpful to others. It is a water-proof and self-sealing solution. It means it excellently takes shape of any human hand or feet. The spray can be used by any factory worker that involves dealing with harmful chemicals. It will also be very useful for the farmers who work in the water-filled paddy fields.
There are more uses explained by Aditya such as; garbage collectors picking up the trash in a more hygienic manner, painters, carpenters, doctors, and drainage-cleaners. He was inspired by an incident of his own life, when he saw people collected trash from his house. He understood the importance of something more clean and hygienic for them. A few words by Aditya are; "Normally, people who pick up garbage don't cover their hands or feet even though they are always in contact with the dirt. They are vulnerable to so many diseases. It made me think of this idea that gives protection and can be made easily available at an affordable cost."
Aditya has always remained as a bright student. Although, he was not a topper, he is fascinated towards studies. His matured thinking and feelings to help people, speak about his moral values and culture. Aditya's mother proudly shared a few words about her sharp son; "He displays a very mature thinking and I am tremendously proud that he is compassionate about others."
Aditya's mother shared one of the best qualities about her son by sharing that he is always eager to learn new things, theories, new words, and unheard information. His mother scolded him once on his mischief, while he interrupted her to ask what word did she say some time ago and he wanted to learn that. It was of course, his mother tongue Marathi. Aditya's teachers shared the same quality about him that he always raised his hand to ask 'why' and 'how' questions.
Related Read : Anubhav Wadhwa : The 16-Year-Old Boy Who Found a Way of Recycling Tyres For Reuse To Save The Planet
Motivational Factor:
To share a fact, Aditya got a chance to speak with Honorable Dr. A P J Abdul Kalam. He also won the 7th Maharashtra State High School Scholarship Exam. Aditya became quite popular in his school after his invention. His parents are really proud of him.
He seems to be a matured, sensible, and sensitive boy who cares for humans and human values. You don't really have to be an engineer, scientist, or a doctor to invent things; all you need is human values and concerns for each other. He is surely going to progress very soon in life. His little mind thinks of major issues like how to relieve the garbage collectors from unhygienic conditions. Similarly, by just one invention, he has helped many different sectors.
Read Also : 16 Years Old Girl's Innovation, Indicator For Dead Landline Phones
I am sure Aditya's parents are relieved with the fact that their son is utilizing his time to invent things whereas his friends are busy watching TV or playing video games. Often, parents don't realize the potential in their children. Most of us even stop our children from helping others as we feel that we alone cannot change the world's disturbed system. However, there are a few parents like the parents of Aditya Joshi, who have encouraged their child to think positive, and think human.
We need more people like Aditya's parents to inculcate good habits in our children. They have really taken efforts to listen to his little queries, so that he can make bigger inventions in his life. Sometimes, the solution to a problem is pretty simple than we think. However, we keep thinking of complex solutions and make things complicated unnecessarily.
I am sure Aditya will come up with more inventions like these and help serve the country better. His thought of improving the current situations is a big boon to our nation. His work should be appreciated at an international level too. My best wishes and blessings are with Aditya.