Anima Patil is a part of NASA where she works as a scientist-astronaut. The Great lady has all the skills to work as a NASA girls mentor, artist, NASA Astronaut aspirant from a performer and dancer.
Anima Patil completed her education at San Jose State University in aerospace engineering. She also holds an MS computer application and BS physics degree from North Maharashtra University. The schooling is completed from Saint Joseph's Convent High School, Jalgaon, India. Working as an astronaut had always been a childhood dream for Anima.
She dug the best aeronautics opportunities through her studentship. According to her, she has achieved everything quite late. She was passionate about Aeronautics right from her childhood. Her love for long-duration space flights, human space exploration and human factors involved in space flight has always been at par.
Anima Patil's Early life
Before joining NASA, Anima worked as a part of the science operation centre. She was appointed as a senior principal software engineer and it was fun for her to work in a team that often found planets in our Galaxy.
Later on, she became commander HERA at NASA Johnson Space Centre in 2015, June.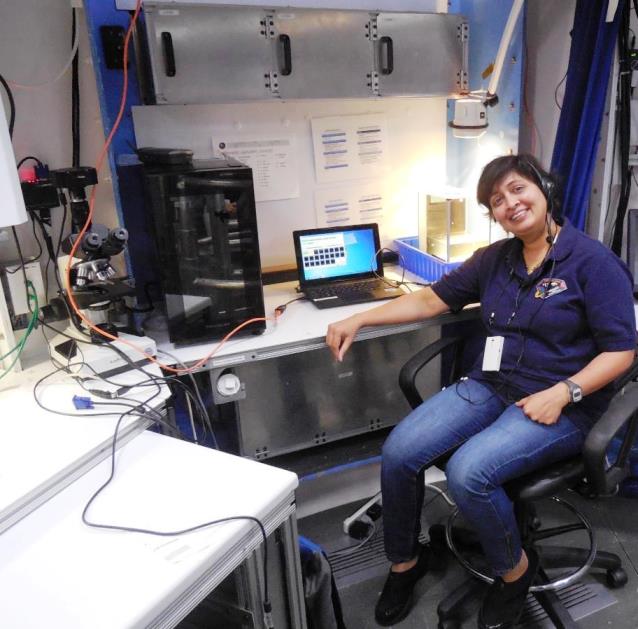 What inspired Anima Patil to go for Aeronautics?
The lady said that it all began when she was mere 7 years old. While reading a book in school she came across pictures of Russian and USA spacecraft, Apollo astronauts and astronauts lying on their backs.
On that very day, she decided to become an astronaut herself. She knew well that her dream was not so easy.
Despite having no clue about the journey, Anima kept on working to make her dream come true. She faced criticism and taunts but remain unaffected in her determination.
Who is Anima's ideal?
Rakesh Sharma had always been an ideal for Anima Patil. She always admired him throughout her childhood and wanted to become a part of a fighter pilot and then an astronaut. Since she was always a good student, her participation in extracurricular activities never lacked.
Besides academics, she was an expert in group singing, dancing, speeches and debates. The little girl was excellent in everything she pursued.
Still, the world was not ready to accept her as the fighter pilot.
In the male-dominated society, there are just a few Limited jobs that a woman can do. Anima had to face it all and accepted the challenges falling on her way.
Giving Up Was Never Her Cup of Tea
Anima did not give up and was always hopeful that things would change by the time she would become a graduate.
The fighter pilot application particularly required graduates in physics or engineering. Her dad was reluctant to send her out of town for pursuing BTech.
Finally, she chose to pursue a bachelor's degree in physics. Fortunately, she loved physics and astronomy equally.
She completed her bachelor's project on the same and qualified with distinction. She applied for the fighter pilot application and did not expect rejection.
Unfortunately, she was not selected because of her short-sightedness. It made her feel that everything was over. But that was literally not the end.
Anima Patil Education:
She was not sure what you would do and time was flying like sand from hands. She was suggested to pursue the master of computer application from North Maharashtra University in Jalgaon.
With just 30 seats altogether, she found it almost impossible to get admission in it.
However, her father was absolutely sure that the girl would seek admission in it. Also, she was getting an ample number of marriage proposals which was depressing her considerable.
Although she called the entire support from her mother, her father was not much willing to allow her to study. Anima gives all the credit to her mother for allowing her to become a postgraduate in computer application.
Anima Patil Achievements



The list of all achievements is quite long –
In 2012 she was hired for the position on Kepler mission by NASA.
She was selected for a simulated Mars mission in Hawaii. unfortunately, we could not participate
Human exploration and Research analogue/ HERA is yet another achievement for Anima. Designated as commander, she was in a simulation for 14 days with her team.
Recently, She never got selected for the possum project -polis suborbital Science in the upper neosphere supported by NASA
The list doesn't end here, she also has her name in the PHENOM project -psychological, health and environmental observation in microgravity.
You can SUPPORT her and be a part of Anima's Astronautics Adventures: My-Deep-Space-Dreams GoFundMe
VID team Thanks Anima for making India proud and wishes Anima all the very best for her future!
Image: source