Delhivery is a 12-year-old Indian delivery startup company headquartered in Gurugram (Haryana), which was founded in the year 2011. It is a logistics-based startup that focuses primarily on the e-commerce segment.
It began its journey as a food delivery firm, however, later shifted to a full suite of logistics services in approximately 2,300 Indian cities and more than 17,500 zip codes. It became a unicorn in the year 2019 when it stood at a valuation of $1.5 billion and had raised $413 million.
Various leading Indian startups turned into unicorns based on their unique, out-of-the-box and convenient services. Delhivery also successfully made its mark by being one of them and truly transformed the perception of delivery services across the country.
Delhivery by now, is India's largest independent e-commerce logistics startup Delhivery, which has raised $277 million led by Boston-headquartered investment firm Fidelity. Delhivery is looking for a valuation of over $5 billion at the IPO launch. The new round valuation of this startup was about $3 billion. Delhivery is backed by the following investors: Carlyle Group, Tiger Global, Fosun International, SoftBank Vision Fund, Nexus Venture Partners, Multiples, and the CPP Investment Board. 
It stands among those few startups that have attempted to digitize the demand and supply system of the logistics market through a freight exchange platform.
How did Delhivery start?
The story of this unicorn is indeed an interesting one. It started from that late-night when Sahil Barua and Suraj Saharan had ordered food from a nearby restaurant and initiated a conversation with the delivery boy.

The conversation trail made them visit the restaurant and led them to further interact with the owner. When they discovered that the restaurant shut down it was on the cards.
So, they took up the responsibility of hiring all the staff present there. This gave birth to this startup unicorn "Delhivery."
To begin with, the company got ahead with an attempt to offer a solution to restaurants and their food delivery issues within an hour's time. This was considered to be a major concern as they saw the requirement of a delivery network for restaurants.
Hence, since then they started being hyperlocal. Both Sahil and Suraj started delivery orders completion for the restaurants within a span of half an hour. At the later stage, Mohit Tandon, Bhavesh Manglani, and Kapil Bharati joined on board alongside Sahil and Suraj.
Their business witnessed success and one of their investors backed them in starting the e-commerce sector too. They realized their capacity of food delivery was optimum, which brought them to think of exploring the e-commerce sector and delivering packages front in addition.
Having plunged into the new area which was e-commerce delivery, made them experience that something was lacking, which their competitors were not able to bridge. As the traditional delivery and e-commerce delivery were very different, hence, there was an immense scope in the e-commerce sector delivery.
This is when the transformation happened and they went from being hyperlocal to the e-commerce segment.
About Delhivery and How it Works?
Considering Delhivery as a platform, it creates a connection between the consignors, agents and truckers offering road transport solutions.
Delhivery ensured to bring down the role of brokers that made some of its assets such as trucking. Where, trucking was the most popular transportation mode for Delhivery, which was much more efficient, and ensured operations happened round the clock.
According to the company they have delivered over 1 billion orders and worked with over 10,000 customers.
Not just this yet they have also been associated with all of India's largest e-commerce companies and leading enterprises.
For the delivery at its final stage, the couriers are assigned with an area that never exceeds 2 sq km. This helped them to make several deliveries throughout the day while saving time.
In the year 2020, when we first witnessed the raging Covid 19 pandemic, the company planned to invest over $40 million within a duration of 2 years. This was with the intent to expand and increase its fleet size. This was to meet the growing demand for orders as more people shopped online amidst the pandemic.
The logo of Delhivery states "Changing the world, one shipment at a time". Therefore, the company endeavours to change the logistics industry by attempting to innovate through new strategy implementation every day.
Delhivery Logo
Delhivery

Business Model
The company runs on a B2B business model, where they provide services that are majorly focused on business people. Here, the customers are not charged for anything, instead, the businesses need to pay.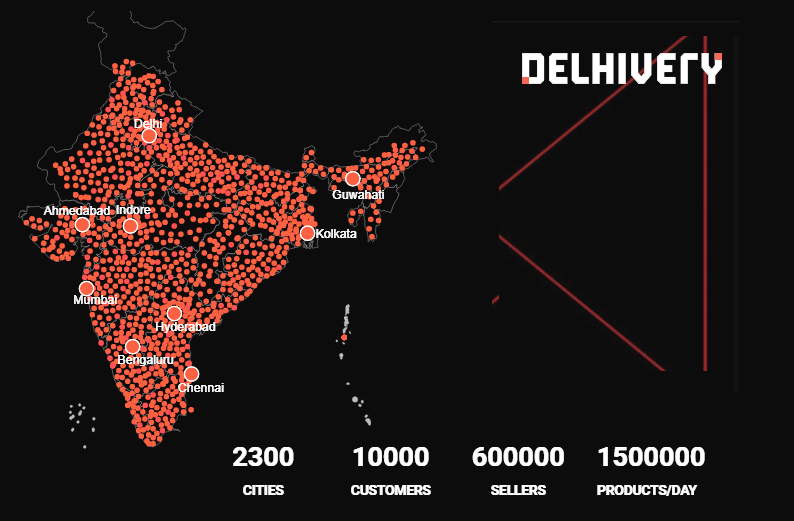 The company's service offering can be categorized into the following verticals:
Last-mile delivery.
Reverse Logistics.
Vendor to Warehouse and Vendor to Customer.
Third-party Warehousing.
Payment collection &
Shipping, etc.
Keeping these categories in view, transportation holds the majority of their business, which follows a plug-and-play model, in which they offer solutions to all those customers who have the need to send out their products to their respective customers.
The Process involved in the Delivery
The company follows the distribution model instead of the hub and spoke model of delivery.
Wherein, as per the distribution model, company's each branch is operated as a hub. In this manner, the parcels can be distributed to the customers without any hassle.
So, it goes exactly like this: whenever a product's order is placed online, it is picked up from the manufacturer and sent to a processing unit. In the processing unit, it is sorted as per the product's destination location (city), which is known as the first-mile operation process. Further ahead, a line haul is used to transport the products from the processing units to the destination cities. So, in short, under the last mile operation, the product gets delivered from the delivery system to the customer's residence.
Delhivery's Top Competitors
By now Delhivery is a full-grown logistics company, hence, doubtlessly it will have neck-to-neck competition in the market space.
Some of these state rivals include Blue Dart, Flexport, Ecom Express, DotZot, FSC (Future Supply Chain), Echo Global Logistics, BlackBuck, Delex, Delivery.com, etc.
About Sahil Barua Co-Founder and CEO of Delhivery
Sahil Barua, Co-founder and CEO at Delhivery was a former Consultant at Bain & Company. Education-wise Sahil is a graduate in Mechanical Engineering from the National Institute of Technology, Karnataka.
Delhivery Co-Founders/Team
This unicorn was founded by Sahil Barua, and Suraj Saharan, which was later joined by Bhavesh Manglani, Kapil Bharati and Mohit Tandon.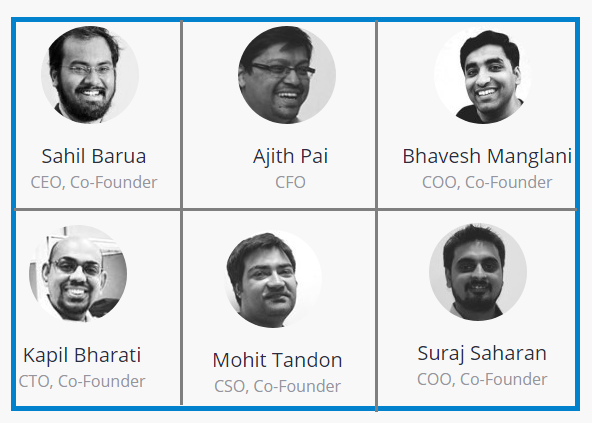 Delhivery Funding Rounds & Investors
[Funding Rounds]
[Investors]
Series A – $1.5 Million
Times Internet Limited
Series B – $5 Million
Nexus Venture Partner
Series C – $35 Million
Multiples Alternate Asset Management Private Limited
Series D – $85 Million
Tiger Global Management
Series E – $100 Million

Carlyle Group
Tiger Global

Series E – $30 Million
Fosun International
Series F – $413 Million

SoftBank Vision Fund
Carlyle Group
Fosun International

Market Funding: $150 Million + $115 Million
Canada Pension Plan Investment Board
Final Funding Round (before IPO): $277 Million
Boston-headquartered investment firm Fidelity
Total Valuation (2023):
$3.6 Billion+ USD
Delhivery has been through various funding rounds. Later, it went from a Series A Startup funding round to a Series F funding round. And in the year 2019, it raised funds from the Secondary Market as well.
In April 2012, its first round of funding came from a Series A that resulted in raising $1.5 million from Times Internet Limited. This boosted the growth of Delhivery's future.
In 2013, raised $5M in Series B funding from Nexus Venture Partner.
In the year 2014, raised $35M in Series C funding from Multiples Alternate Asset Management Private Limited.
Funding continues In the year 2015, raised $85M in Series D funding from Tiger Global Management.
Raised $100M in Series E funding from Carlyle Group, Tiger Global, Fosun and $30M from Fosun International in the year 2017.
In the year 2019, it is said to have raised $413 million in a Series F funding round and hence became a unicorn. This hefty investment came from SoftBank Vision Fund and existing investors like Carlyle Group and Fosun International.
Later in the year, in June 2019 & September 2019, it raised $150 million from and $115 million from the Canada Pension Plan Investment Board respectively.
In December 2020, "Global fund Steadview Capital has bought $25 million worth of secondary shares from an early investor in logistics startup Delhivery."
Recently in May 2021, Delhivery has raised $277 million led by Boston-headquartered investment firm Fidelity, which is much ahead of its IPO filing by later this year.
Currently, Delhivery's valuation is about $5 billion with the help of the latest funding round. (approx. according to various media reports)
---
/Related/ BrowserStack Funding and Success Story
---
Delhivery Key Points of the Year 2022
The company was founded in the Year 2011 by Manglani, Tandon, Sahil Barua, Kapil Bharati and Suraj Saharan hold a combined stake of under 10 percent in the company individually.
Recently two of the five co-founders of Delhivery i.e. Bhavesh Manglani and Mohit Tandon have stepped down. This news was released during the time of the company's plan to raise funds through the capital market.
They are believed to have "stepped aside" from the daily operations and have been reclassified as 'retiring/non-active promoters'. The co-founders took this move when they realized that there is a lock-in period for the promoters before they can sell their share post listing. Hence, they may now plan to sell their shares during Delhivery's proposed IPO in 2022.
Delhivery saw this world for the first time in the year 2011. Seeing all the ups and downs, majorly the success part. Today, it claims that over 850 million orders have been delivered by its team to more than 300 million households across India. According to their official website, the company has stated about its 24 automated sort centres, 85+ fulfillment centres, 70 hubs, 3,000+ direct delivery centres, 7,500+ partner centres, 15,000+ vehicles and 40,000+ team members who made it possible to deliver over a million packages.
Seeking Delhivery into perspective, the other internet startups that are also working on their IPOs include food-delivery firm Zomato, a cosmetics brand and retailer Nykaa, and insurance marketplace Policybazaar.
Delhivery IPO valuation (2023)
Delhivery recently (in January 2022) after getting the SEBI approval, is ready to boom with the approx. value of INR 7,460 crore IPO.
Delhivery's IPO size is INR 7460 crores, fresh issues are INR 5000 crores and is going to be listed on BSE & NSE.
Whereas Delhivery IPO price is still awaited.
| | |
| --- | --- |
| [Delivery IPO] | [Updated Details] |
| IPO Price | Details Awaited |
| Face Value | INR 1 (Per Equity Share) |
| IPO Size | INR 7,460 Crore (approx.) |
| Fresh Issue | INR 5,000 Crore (approx.) |
| Offer for Sale | INR 2460 Crore (approx.) |
| Listing | BSE & NSE |
| Last Updated | April 2022 |
---
Delhivery Website | Facebook | Instagram | Twitter | LinkedIn
---
Delhivery: In a Nutshell
In the present times, factors like convenience and ease of services hold an indispensable place amongst customers when it comes to both offline and online platforms. So, the companies that have inched towards this requirement by offering comfort, ease and convenience in product or service provision have scaled up their presence and growth in the competitive market space.
Not just this yet with the advancement in technology and digitization it became imperative to address the inefficiencies in the Indian logistics industry that had undersized the national economy for a long time. Some of these issues included: poor planning, inaccurate forecasting of demand and supply that led to the increase of carriage costs, theft, damages and delays, etc.
Delhivery got an edge in the market by growing and evolving through its hyperlocal business model, which focused on the e-commerce sector. That led to its success since its inception despite being amidst massive competition.