Preeti Shenoy is the only female in the list of highest selling authors in India. Her second book "Life is what you make it" never actually left the bestseller lists since its release in 2011. Preeti Shenoy inspires a generation of youth to dream, make a wish list and live life the way they always wanted to do.
About Preeti Shenoy:
The Author has seven successful books to her name. Preeti Shenoy was a run away hit owing to her past writing experiences. Unlike the most debut authors who first publish a book and then start improving, Preeti Shenoy wrote voraciously and only when she had offers and appreciations pouring in, she decided to write a book. Her first book 34 Bubblegums and Candies, which was a narrative of heart touching incidents.
Second book, "life is what you make it" can be termed as the milestone that redefined Preeti's life as a writer. The beautiful story of a girl undergoing depression and then coming out of it to achieve everything in life is not impressive but highly inspirational. One can always find "Life is what you make it" being sold for 60 to 75 INR on varied online stores.
Words to blogs and blogs to books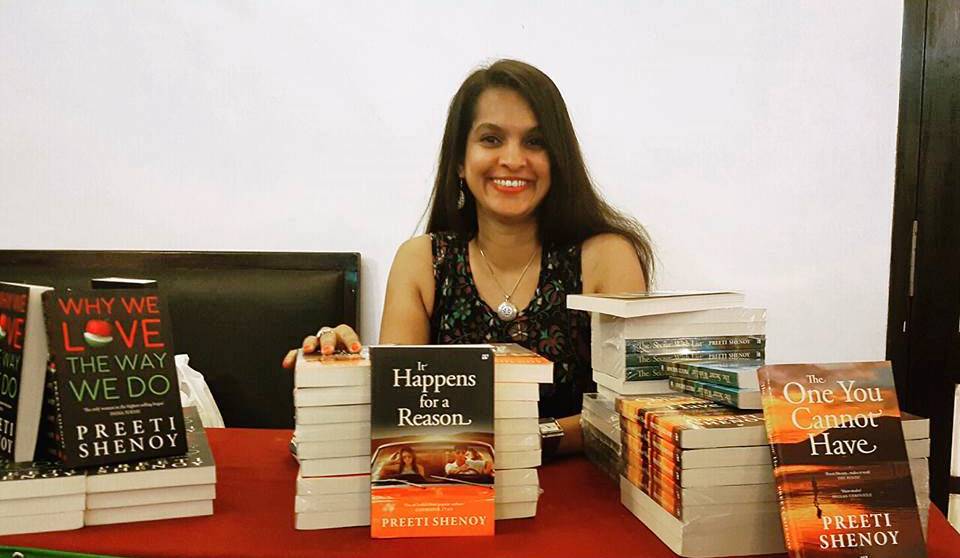 Preeti always had a flare for writing; it was only in 2006 that she took to writing with her blog : preetishenoy.com. The exquisite tales of romance took her audience by surprise; the increasing popularity started acquiring attention and soon she was contributing in reputed newspapers like Times of India. Varied online and offline platform requested her to contribute and then she had the idea of writing a book. What happened next has changed the way people look at female authors in India. The contemporary generation of author, which includes quite popular Nikita Singh, idolizes Preeti for her writing and for her achievements.
Events, Seminars, Talk and Life Lessons
Preeti comes from nowhere and revolutionizes the writing industry in India; she is surely worth reading and listening to. It has been to the luck of many students and employees to hear Preeti Shenoy live at various Ted Talks and Blogging Conferences.
Preeti Shenoy was recently spotted at the BNLF conference organized by Indi blogger in Bengaluru. The event had some of the most reputed name from entrepreneurial background and from blogging world as well. Preeti continues to blog voraciously in order to maintain a touch with her huge reader base.
The Blog Marathons:
What sets Preeti Shenoy apart from the other popular authors of recent time is her generosity towards her reader base. Preeti is often found chatting and replying to her readers on Twitter and Facebook. She does this blog marathon thing every now and then. The blog marathon runs for a whole month, where she writes a blog everyday and tries to connect with her readers. The blog marathon helps her re-establish the connection with her reader base, which grows weak every time she starts working on a new book.
Apart of everything, Blog Marathon also helps her with creating the much-needed buzz for her upcoming books.
Love for stories and dogs:
Preeti Shenoy reads, writes and loves her dog. Preeti's fondness for her dog is quite visible on her social media profile. The lovely dog accompanies her when she is reading an exotic book or when she is busy growing organic vegetable. The lovely dog certainly seems to be inseparable part of Preeti's life.
Books of Preeti Shenoy find crisp mention of dogs; the last book, why we the way we do, has a huge part dedicated to dogs. The story presented a very lovely scenario and appreciated everyone who-so-ever decides to love their pets as their own kids.
Why it was important for Preeti Shenoy to succeed as a writer?
India had a very stern publishing industry before authors like Preeti made a debut. It is because of such magnanimous authors that we writers are able to dream of making a career in writing world. Preeti along with other writers have abolished the boundaries and leveraged the contemporary generation with an opportunity to push the envelope.
Today, writers are trying varied genres and styles of writing and are getting published with great ease; early it was quite difficult to contact a publisher. Preeti's humongous success as a writer, inspires, fuels and empowers the modern day writers to dream big, make a wish list and march in the direction of their dreams with confidence.