Mahavir Singh Phogat Bio
Full Name:
Mahavir Singh Phogat
Place of Birth:
Bhiwani district, Haryana, India
Nationality:
Indian
Father:
Man Singh
Mother:
—
Profession:
Former Indian Wrestler & Wrestling Coach | Politician
Spouse:

Shobha Kaur
Children:

Geeta Phogat
Babita Kumari
Ritu Phogat
Sangita Phogat

(4 Daughters)

Siblings:

Rajpal Singh Phogat
Originally Published in 2016

Last Updated December 2021
What do you know about Mahavir Singh Phogat?
It may sound dippy to ask this question if you are a wrestling fan. Mahavir Singh Phogat is a real-life hero and a super daddy, who believes that it is not always necessary for a father to raise his daughters like a princess. Sometimes, you have to make them tough, rough, and confident to face the realities of life.
Mahavir, a state champion wrestler became a coach to his own daughters (Babita Kumari and Geeta Phogat), who are now world champion wrestlers. If you are an ardent fan of perfectionist Mr. Amir Khan, you would know how choosy he can be in taking this opportunity to act in his upcoming movie – Dangal, which is based on Mahavir Singh Phogat's life history.
Mahavir Singh Phogat- Life history:
Mahavir belongs to Balali, a small village in Haryana, which did not give him his expected rights for raising his daughters. Mahavir's wife's name is Daya Kaur, who has equally supported him in achieving his dreams and goals.
His love for his daughters does not reflect in his words, but in his actions. He quit his job to raise and coach his little angels, so that they can turn to inspiring personalities. Today, more than a wrestler, Mahavir is famous for his coaching skills and the support that reflects through his daughters.
Things were not as easy as it seems. Mahavir has gone through a roller coaster ride to explain people why it is important to raise your daughters equally instead of pushing them to marry. He has defied many arguments, risked his own life and career; despite the hurdles, he stands alone to fight back the challenges posed for his daughters.
When he began coaching his daughters, Mahavir did not know if he will be successful in creating an interest in his daughters` hearts for wrestling. It is only his passion and his daughters` love for him, which has together brought him this recognition.
Life Achievements and Rewards:
Mr.Perfectionist, Amir Khan gives a tribute and real face to the journey of Mahavir Singh's life history and the success of his daughters, in his upcoming film Dangal. Mahavir is currently working as a senior Olympics coach.
Mahavir also grabbed The Dronacharya Award by the Wrestling Federation of India. He is recognized globally for his exceptional wrestling and coaching skills. After breaking all the taboos of his village, Mahavir is a true inspiration to all the fathers of India. His goals are not related to achieving awards, but to seeing all his children winning the Olympics.
|Read Also : Taapsee Pannu Success Story
Message spread by Mahavir Singh Phogat:
Although Mahavir took birth in a remote area, his thoughts about raising daughters have spread a strong message like wildfire across the globe.  He is a man who doesn't believe in words but, action. It reflects in the achievements of various world championships by Babita and Geeta.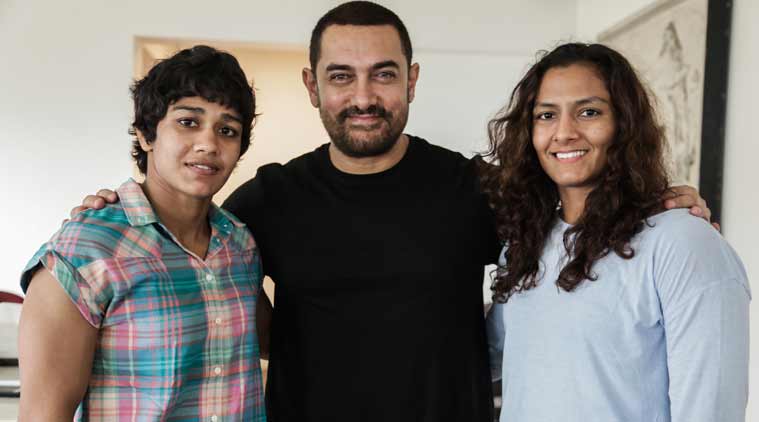 One of the strongest messages that he passes to the world, especially the villages of India is to believe that a woman's place is not just in the kitchen. Mahavir also believes that instead of raising our daughters with the objective to let them get married, we must ask them about their dreams and help them achieve the same. This is where the duty of a true parent lies.
He beautifully spreads the true definition of zero biasness between the sons and daughters. He has raised, guided, and coached five daughters since his wife's and brother's death. All of them have achieved remarkable success in sports today.
Being a daughter, I can relate to how much struggle a father has to go through to give equal rights to his daughters, and this battle begins from home itself. I salute to super dads like Phogat, who prove to be real-life heroes.
People like them let us believe that no excuse in the world can make you fail if you have the courage and will to achieve your goals. I consider him my role model and wish that every father thinks like him. Gladly, I am blessed to have a father with similar thoughts, who has always stood for my rights. We are also three sisters and when I shared Mahavir's story with my father, he got his life's energy and inspiration back with full spirits.
Challenge is inevitable, but defeating the challenge is in your hands.

_Shruti Sharma
If a small villager with no financial and emotional support can raise his girl children to become world champions in wrestling, what's your excuse?
———–
Dangal Box Office Collection First Week:
Dangal Earning Overseas:
Dangal Lifetime Earning Collection:



Dangal smashed many records and Set new milestones, here are the details of Dangal's lifetime collection and earnings approximate report.
| | | |
| --- | --- | --- |
| [Dangal Earning Stats] | [in INR ₹] | [in USD $] |
| India Lifetime Collection |  ₹ 387.38 Cr | – |
| India Gross Collection | ₹ 587 Cr | – |
| Worldwide Gross Collection | ₹ 2,032 Cr | $311 M |
| Overseas Total Collection |  ₹ 1535.3 Cr | $221.02 M |
| China Collection | ₹ 1305.29 Cr | $203 M |
Disclaimer: Figures are approximate values, earning information have been gathered from various media and web reports for education purposes.
Dangal with these massive earnings became India's no. 1 highest-earning worldwide bollywood movie.