Indian Startup industry is roaring; with the third largest startup community, India is all set to be the next innovation destination. Entrepreneurs have worked hard enough to help India rise up the charts, but is it only entrepreneurs who have contributed? Is it really possible for someone with almost no money and only idea to change the world? Yes! It is possible but then everyone needs people, who believes in them and tells them to go confidently in the direction of their dreams.
Well! Vani Kola is one of those rare gems who will inspire you to go in the direction of your dreams confidently. With an impressive investor profile, Vani Kola is literally the dream investor every entrepreneur craves for. Her touch is no less than Midas touch, once you have landed in her investor's portfolio, start counting yourself among the successful startups. Vani Kola not only has money to leverage but an ocean of inspiration, intellect and insight to share.
The life of Vani Kola
Vani have had a successful stint at the Silicon Valley, when she returned to India in 2008, she decided to turn herself into an angel investor and start funding startups with potential to create something similar to Silicon Valley in India. Well, if you look at the portofolio of Vani, you can say that she has been successful in her attempts. Vani Kola was one of the earliest investors of Myntra.
Myntra today has no competition in fashion apparel online market. Myntra rules its vertical and there's no one even close to it.
Vani completed her education in Hyderabad now in Telangana. She graduated in Electrical Engineering and later did Master of Science from Arizona State University.
Vani Kola and the Kalaari Capital
Kalaari Capital is a venture capital company that funds startups in early stage. Vani Kola heads Kalaari Capital with the title of Managing Director. At Kalaari they aim to find emerging startups with the potential to create a disruption and fund them.
Kalaari Capital has had quite a successful funding stint in India. They have funded some of the Internet giants and helped them discover their market. Apart of funding startups, Kalaari Capital also keeps an emerging market opportunity because that's what a VC firm is supposed to do. Keep an eye on the market, match startups that are doing something similar, fund them and change the world for better.
Kalaari Capital started their operation in September 2012 with USD 150 million and under the administration of Vani Kola they grown to be valued at USD 650+ Million.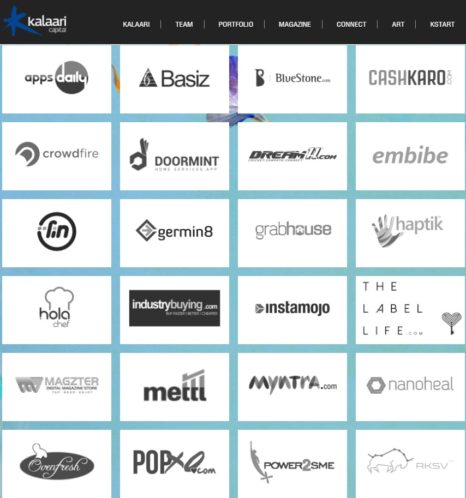 What are some of the top startups funded by Kalaari Capital under the guidance of Vani Kola?
To use less words and say more, Myntra and Snapdeal are one of the early startups Vani Kola committed to invest in. She invested in these enterprises when they were actually startups finding their way up. Today Myntra and Snapdeal have raised a series of funding from top investors like Tata, Alibaba and what-so-ever. Today these enterprises have turned indispensable for Indian audience but back then when they were mere startups and looking for a breakthrough, it was Vani Kola who came to rescue.
Well, what is that empowers Vani Kola to make such strong and future oriented decisions?
One look at her investor's portfolio and you are going to be impressed with her decision-making ability. Well, she is quite successful now as an angel investor but what empowers her to take such strong decisions? What ensures that her decisions are going to bring in sweet fruits?
Experience is one word that defines the angel investor Vani Kola the best. Vani has worked as an entrepreneur in Silicon Valley for 22 years. Silicon Valley is the epitome and anyone who survived there for 22 years must have something very unique and rare.
Awards and Recognition:
For the effort that Vani Kola is putting in to make India the battlefield of innovative startups, she deserves every honor in the world. Here's a list of all recognitions conferred on her:
Economic Times awarded her with the title of Midas Touch in 2015. It was also the first Startup Award in India.
She was also named as the winner of NDTV Women of Worth for her exemplary contribution to leadership excellence in business and entrepreneurship.
It is people like Vani Kola who inspires the contemporary Indian generation to dream and dream big. Start working on your dreams and you will find people who will help you turn your dreams in reality on the way.
Website : kalaari.com
 Header image via : usatoday.com